Remembering The Boobgate In The Last Hurrah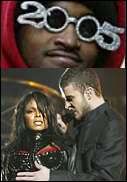 As the year sliced up in Gregorian style comes to another slightly miscalculated end, one tends to look back and reminisce. In the great land that is America (add the correct dosage of irony here), freedom of expression and what is misleading termed as
traditional values
often clash, but not so severely as when
Janet Jackson
's now infamous overexposure at January's
Super Bowl
caused a rippling wave of consequences for everyone involved - and even some who had no part in the shocking halftime show incident.
During the halftime show, a duet with Justin Timberlake culminated in his ripping off the breastplate of her costume - exposing her right mammary (and sun-ray nipple ornament) to the nation and giving birth to the term "wardrobe malfunction." Janet later apologized in a videotaped statement saying: "My decision to change the Super Bowl performance was actually made after the final rehearsal. MTV, CBS and the NFL had no knowledge of this whatsoever. Unfortunately the whole thing went wrong in the end. I am sorry if I offended anyone, that was truly not my intention." But the networks felt serious repercussions, with the FCC coming down hard on "indecency in the media" and CBS airing the subsequent Grammy® Awards with a video delay. The ripple effect is still being felt in the bastion of freedom, with Howard Stern announcing he's moving his syndicated radio show to the un-regulated Sirius Satellite Radio and with many network affiliates pre-empting the Veteran's Day airing of an un-cut version of 'Saving Private Ryan' on ABC.
In November, Tara Reid made a red-carpet entrance she'd probably prefer to erase, bringing back memories of Janet's debacle. The actress was posing proudly on the red carpet at Sean "P. Diddy" Combs's 35th birthday bash in New York when her gown strap slipped off her left shoulder, exposing her breast for the flash bulbs. Although she had clearly been struggling with the strap before the slip, she appeared shocked when her publicist covered her up and pointed out that she was fully exposed for several excruciating seconds. Reid pleaded with members of the press not to publicize the photo, to no avail. Although the slip-up was not televised to the nation - and the FCC did not get involved - Tara's exposure provided a convenient bookend to Janet's January "wardrobe malfunction."
You just couldn't make it up.