Healing Hands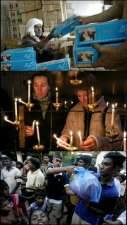 Ocean disaster toll hits 114,000
, but with speedy mass burials and the chaotic situation the tsunami death toll may never be completely known.
At a morgue in the coastal town of Cuddalore on India's mainland, a government physician, Dr. S. Narayanswamy, announces on the public address system to waiting crowds outside: "There are four ladies and a boy of five years, or is it eight years, here. Please come and identify."
A man and a woman come in hesitatingly, look at the dead boy's face and shake their heads. They are asked to leave and the next couple walks in and erupts into wails, beating their chests and rolling on the ground. Within moments, a numbered tag is attached the body's arm and the official toll goes up by one.
What's important now is that when nature's furies subside, humanity must rise to the rescue. Hands held together make the strongest and the longest bridges, it is these which will lead us to a better future.