Tarkan's Twenty Thousand
By Adelind Osmanlı reporting from Munich, Germany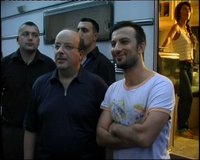 After a small hiatus - to open a run of open air concerts in Istanbul - Tarkan is continuing with his summer Avea Tour in Turkey.
He repeated his run of crowd-pleasing concert performances on August 12, nine p.m. local time, at Balıkesir's Atatürk Stadium. The concert was front page news across all of the region's newspapers.
Tarkan only gave reports to local journalists that evening, and Balıkesir's official government website reports preparation for the concert took several days, with a team of 100 personnel and nine lorries of equipment entering the Turkish province.
Lasting for nearly two hours, and five costume changes, Tarkan wowed an audience of close to twenty thousand, most of them young people, echoing his recent Kuşadası leg of the tour.
Before the start of the concert backstage, Balıkesir's Mayor Sabri Uğurhad (see pic) had personally greeted the artist to the region, which extends on both the Aegean and Marmara coasts.
<< Start the Countdown | Tarkan News Index | Tarkan Tidbits >>