Salmagundi Thoughts
Rania
, a singer from Greece emailed me with this picture on the left. "
Ali! The busy hard writer!
" she writes, "
I saw this card in a magazine and it reminded me of you...with the red shirt which is your favourite colour.
" Well, red is my favourite colour, but not to wear...though I do have one lucky red shirt.
So the hard writer writes out a salmagundi of news and views today. As the enlightened Benjamin Franklin once surmised, "either write things worth reading, or do things worth the writing". I try to do both.
"Time is the Stuff Life is Made Of"
Benjamin Franklin
Deja vu Disease
Researchers suggest that people who continuously believe they have experienced unique events before suffer from extreme deja vu caused by a faulty memory process.
Will convenience beat privacy?
The Net is taking away the privacy of its community, but is that a good or a bad thing? Ultimately, privacy may not be the issue. Rather, the point is whether all the personal data collected is held securely, or can be stolen or used in an unwanted way.
By Tim Weber, Business Editor, in Davos
"Be in general virtuous, and you will be happy."
Benjamin Franklin
Safe Sex on the Net?

The Internet community had been counting down to Friday, apprehensively waiting for the Nyxem-E virus to strike yesterday. Built to delete many popular types of file, the virus only affects Windows users who must open an infected attachment on an e-mail message falsely claiming to contain a variety of pornographic images or videos to fall victim. It has been racking up victims since it emerged on 16 January and is believed to be lurking on more than 300,000 infected PCs which will be used as launch platforms to help the virus seek out fresh victims. However, in the aftermath it seems that the damage was 'limited'. It was also suggested that Turkey would be one of the countries hardest hit, but it did not even enter the top twenty.
As long as a virus conforms to the norm it should be sufficient to carry out the suggestions below to remain risk-free.
1. Check your mail diligently and delete unknown mails without opening them.
2. Never open any attachments/files from anyone, even trusted sources, that have the executable extension (EXE).
3. Keep an up-to-date anti-virus programme and scan your PC and mail routinely.
4. Back up your most important files on DVD/CD.
5. If economically possible keep your Internet activities on a separate unnetworked PC or laptop and away from your hard drive that houses important files.
Think of it in terms of safe sex. Keeping yourself virus free is to view file sharing and opening email attachments as though you were sharing bodily fluids with someone. Sharing picture and sound files are like kisses and cuddles, these can get you into trouble, but not if you are careful. However, sharing files with executable extensions (EXE) and sometimes even DOC or ZIP and similar compressed files - any file capable of carrying executable information - is like having sex without a condom and risk of infection rises.
Don't share files with people you don't know. In cases of EXE files don't share files even with people you do know unless you are sure of their sharing history, because they may unknowingly be infected and unintentionally infect you, too.
Picture courtesy of BBC News
<< Want to read more news? | Read more about what I have to say >>
Views
"Garth, marriage is punishment for shoplifting in some countries."
Wayne's World
Love for One Day?
Valentine's Day is soon to be upon us. I am not against Valentine's Day, but I don't agree with the idea that there should be one day for just lovers, where they try to make amends for the neglect of the loved one every other day. Each day should be Valentine's Day for lovers, and any special day that lovers celebrate should not be one shared in common with the world, but a day that is only special to them, whether it be the anniversary of their meeting or some other special occasion.
Of course I celebrate the day, but I don't limit Valentine's Day to just a lover or partner. I see Valentine's Day as I think it should be - 'National Love Day' in general. A day for sons to show appreciation to their mothers, husbands to pamper wives, best friends and soul mates to re-connect - a day that everyone should celebrate.
<< Read more about my posts on Love | Read more Valentine's Day posts >>
The Wrong Song
Leila from France emailed me a query regarding the site Lyicsdownload, where she found Tarkan lyrics to a song called "Down Boy", which she had never heard before.
There was good reason. This wasn't a song by Tarkan but by Holly Valance, who had sung a cover version of Tarkan's single Şımarık.
I emailed an affiliate of Lyricsdownload as they do not provide a contact mail address on their site. After corresponding with the necessary legal team, the error at that particular database has now been corrected, with the "Down boy" lyrics removed from the website.
The Smell of Success?

I received an email from Kashmir in the UK, regarding Tarkan's cosmetics. He is interested in buying the perfume and is wondering about the scent.
Never having bought the perfume myself I can't say one way or the other. However, it is no secret that the perfume hasn't been a great success to date.
Tastes vary. I've had people send me emails where they have liked the perfume straight away, hated it or "grown used to it".
A girl claiming that her father works for Temsu, the cosmetic manufacturers of the perfume, had emailed me two years ago to express that Tarkan wasn't happy with the perfume, as he had wanted some type of sea sponge to be in the bottle*. The pop singer did not continue with the promotion, either, and it doesn't appear on Temsu's site.
I think if Tarkan has learnt a lesson from this, it is that he has to be directly involved in a project, otherwise most fans find it lacking.
"Once you label me, you negate me."
Soren Kierkegaard
A Forbidden Kiss by Whom?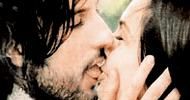 I have received a few posts from people complaining about the Turkish government and its Ministry of Culture and Tourism, asking me what "they have against Tarkan" - citing the affair over the "Hüp" music video and the absence of the popular singer on the Ministry's web site.
I am not here to defend the Turkish government, but I am going to try and clear up misconceptions about these issues. The Turkish government then in power did not ban Tarkan's music video, nor did it ever attempt to ban the video.
The "kiss scandal" as it is known took place in 2001, and began when the Turkish TV watchdog received phone complaints from some members of the Turkish public who found the video offensive. The story was picked up by the media, which discussed the possibility of a ban.
I have checked my Tarkan documentary, my Tarkan articles and information regarding the Karma album at my Tarkan Translations blog, and I don't think I've ever written anything to give the impression that the Turkish government banned the video. Don't just take my word for it, either, you can read the BBC article, as they reported it, too.
It is true that Tarkan has always raised eyebrows in Turkey. He has irritated certain politicians. He did take issue with the then government regarding the military service row, but this isn't something exclusively faced by Turkish males or Tarkan. The Turkish government did not single out the pop singer in 1999, it was the press that made Tarkan a scapegoat because of his high profile. People may remember that even America's King Elvis Presley had to go into the army, or more closer to home, when Greek Cypriot tennis star Marcos Baghdatis had problems with his government regarding his military service.
As to the question of Tarkan's absence from a government department's site, why should official government pages mention Tarkan just for the sake of his popularity? Do they mention any other popular Turkish artists and seemingly omit Tarkan on purpose? Taking a different example, do official US government sites mention Kanye West for no specific reason?
The Turkish Ministry's website promotes Turkish traditional music, not popular or contemporary music. I'm not arguing how right a decision that is, but as such, they don't mention Sertab Erener, either, and her 2003 win of an international song contest arguably helped to promote Turkey.
Tarkan at one time did aid the Department of Culture to fight piracy and to promote tourism. In 2001 he appeared on television promoting Turkey abroad. He has also appeared in government funded festivals in Russia, promoting Turkish culture. If there was a snub, he would not be invited to such events.
Moreover, I'm sure people realise that to use Tarkan's name and image officially requires payment and permission. These sites are serious sites, not tabloid style magazine sites where they try to use Tarkan's name with anyone remotely connected to him through varying degrees of consanguinity.
So, please let us use some common sense. Tarkan's real problem lies with the Turkish media and with piracy, not the Turkish government.
And Finally...
"There never was a good war nor a bad peace."
Benjamin Franklin
Thank you
Finally, I feel the need to thank certain people across the world. In Greece I want to thank Rania for her beautiful letters and pictures and Soteris for his original mails, to Leila and Yassin in France for their support of my blog and the constant inspiration and help they give, and to Mailyn in America more recently for her input at Tarkan Visual, but in general for her support and being such a well-grounded individual.
I want to end with a mail from Finland:
Hello from Finland! I am a guide who lives most of the year in Turkey but these couple of months I spend in Finland.. so spending time on the Internet looking for news from world is what I do when I am lonely.. Thanks for a great page! Kiss! Amira.
I thank all of you. If only the world was filled with more such people we would know real peace in our world.
_______________
* I don't know if it is the same person, but a member of the Turkish "confessions" site itiraf.com also put up a post effectively expressing the same thing in 2004.