Recalling the Past
By Adelind Osmanlı reporting from Munich, Germany
Turkish newspaper Sabah makes mention of Turkish pop icon Tarkan in two articles today, which focus on previous events.
A faithful member of the anti-Tarkan lobby in the press, Şengül Balıksırtı mentions the artist in her report about the problems facing the Turkish music industry.
Complaining that, as with global music markets, the domestic music industry is suffering from low album sales and concert turn-outs, instead of highlighting Tarkan's recent Metamorfoz album and the welcome interest it has generated, she claims that had the music industry been as successful as it once was "Tarkan would have sold a million copies of his latest album by now".
With internet downloads and piracy affecting music industries across the world, it is not surprising that Tarkan isn't immune, and yet Tarkan's 2007 album, released in the last week of December and only in the market for two months so far, has already notched nearly a quarter of a million sales in its first two weeks.
Way above the crisis with the domestic media, Tarkan's biggest problem has always been wide-scale piracy.
Balıksırtı contends that the era of easy sales is over, and that artists must start to produce quality works, with opportunities for new artists to emerge into the industry.
Arguably, while music artists like Turkish rocker Teoman (with a possibility that other artists like Mustafa Sandal will follow) are rehashing old songs and churning out their self-made tribute albums, Tarkan is one of the few cornerstone names in the industry still producing major works. The pop icon had even taken time out of his own album's production to support his ex-backing singer Murat Boz's entry into the music scene last year. Tarkan has also been publicly backing initiatives, such as legal downloads, to get the flagging music industry moving again.
Instead of pointing out the artist's achievements in aiding the industry recoup its losses to piracy, Balıksırtı prefers to downgrade his achievements, ignoring the fact that her attitude and those in the anti-Tarkan lobby have a hand in the music sector's problems, as much as the music pirates do.
Tarkan Blackmailer Jail Term Re-instated
Tarkan talks to press: "The photos are mine. I've done nothing to be ashamed of. It's my life." (2001)
The second news in
Sabah
is one that stretches all the way back to 2001, when Süleyman Şahin tried to
blackmail Tarkan with personal photographs
stolen from the artist's New York apartment while in the process of moving. The rumour had re-fuelled the "
is he/is he not gay
" discussion, with the stolen images reportedly revealing Tarkan in compromising positions with other men.
Today's Sabah reports that Şahin's initial prison sentence (which had been overturned on appeal) has been re-instated, and that the blackmailer will reportedly serve his original sentence of 15 months, while the amount of the additional fine was lessened.
A cause for blackmail in many countries, homosexuality has never been made illegal in Turkey, so Şahin was blackmailing the artist for the "public shame" he thought would be created by the publication of the photographs. Blackmail, however, is illegal under Turkish law.
When Tarkan refused to pay, Şahin gave the private pictures to the domestic press, which tried to portray them as compromising photos that suggested his homosexuality, but became widely regarded as ordinary photos with fans in swimwear in public places.
Sabah continued to misrepresent the photographs by reposting them today and choosing to blur the face of one of the photographs as though to suggest Tarkan was in a kissing pose. However, the original shows the opposite, that Tarkan is trying to pull away from the over excited fan that has the pop icon in his grasp on a public beach in the US.
Press speculation over Tarkan's sexuality has taken up a lot of newspaper space ever since he sacked his openly gay first manager Alpay Aydın in the early 1990s, who began to spread gossip about the pop icon in domestic celebrity circles.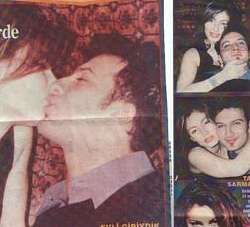 During the ensuing media scandal in 2001, Tarkan's one-time girlfriend French-Algerian model Asia had flown to Turkey to speak on national TV in defence of the man whom she had lived with "like man and wife" for over a year, with private photographs of her own to show of the two together.
"Europe would just laugh at those [other] pictures," she had declared.
<< Tarkan's MTV Top Slot | Tarkan News Index | The Public and the Private >>