Private Lives
M.B from Copenhagen, Denmark writes:
Hi Ali,
I love Tarkan with all my heart, but find it hard to get coherent information on him and his works on the net - as many have probably told you already..Your site has been very informative, thanks, - one thing I still have my difficulties at finding, though..:Tarkan's girlfriends ??
Of course I know that he is now very happy with his Bilge (good for him... damn it..) - but I read about his 'active love life' before meeting her in several places, but... who were they? Do you know? I really hope that you might be specialized enough to tell me where to look for information on them..
Thank you so much for reading my letter. Best wishes from me to you - and keep up the good work!!
Let me firstly apologise for taking so long to get back to you; I think your mail is the first one that I've published that's taken a year for me to reply. I remembered your 16 December 2006 dated email after receiving four other emails similar to your request just recently. As you were the first to ask, I thought I'd finally post a reply to you before the year was out.
Tarkan's Girlfriends
Before Tarkan started dating his girlfriend of seven years, lawyer Bilge Öztürk, in 2001, his name was printed alongside various show industry and society "it" girls he'd been seen out in public, while enjoying Istanbul's night-life. Turkish paper Hürriyet had printed a list of celebrity "love machines" in 2001, with Tarkan listed last with eight women named. The "winner" that year had been a female model with 22 partners (not all in the same year).
I'm assuming that as you're not in Turkey, you don't follow the Istanbul celebrity circles and so telling you that Tarkan has been named with such models as Seçkin Piriler and Nermin Tuncer, or news anchor Aslıgül Atasagun (see left pic) and actress Şebnem Özinal (now married to a wealthy bar owner who held the defunct Laila bar in Istanbul that Tarkan frequented, currently called Sortie) will not mean much to you. And to be frank, they mean little to me too, as I don't read celebrity society magazines or follow the Turkish jet set.
However, ever since he started his career, there have been a few ladies in Tarkan's life that have been mentioned more than just in passing by the society gloss. I'm assuming this is the type of information you want, and so will attempt to give a "run-down" on some of Tarkan past serious girlfriends below.
UPDATE: Tarkan gets married (2016) >>
Please note, I publish the information with the caveat that some sources are from celebrity gossip columns. I can't verify how much of it (if any) is true. I'm just giving you the information that is out there.
Love Before Fame
In reports that Tarkan has given, some information is available as to his love life before fame found him in the early 1990s. In a Q & A-style interview that was posted up at the 2004 version of his official site (which you can still read at Tarkan Translations) he mentions that he first fell in love at the age of four, while in a 1994 special single issue magazine on Tarkan (see left pic), it was mentioned that Tarkan's first true love was his music teacher's daughter, Nikris, in Karamürsel, Turkey.
The one-off issue was distributed to coincide with the release of his second album A-acayipsin. Entitled as "Tarkan's '94 album", this special edition also outlines a relationship with another girlfriend before he hit the attention of the wider Turkish audience. Gülçin is described as being the girl that starred in the second version of the music video to the song "Vazgeçemem" from Tarkan's début album, Yine Sensiz.
Interestingly enough, the '94 magazine was prepared by one of Tarkan's more serious girlfriends, his first and longest relationship before Bilge came along, Elif Dağdeviren. Tarkan's affair with Gulçin didn't last long, as it's obvious from the tone of the writing in the magazine that Tarkan and Elif were becoming an item. I mention Elif in more detail further down.
Early 1990s to 2001
In comparison with most celebrities, Tarkan has probably had a more tame love life, but this is possibly because before he made it big in Istanbul, as the '94 special issue reveals, Tarkan had a long series of one night stands, and was almost out of control for a while in his relationships with the opposite sex.
His serious girlfriends after this period, when he started to make the headlines, has been documented in another special issue that was distributed in 2003 on the eve of his Dudu work. It was a supplement booklet printed specially for a (now out-of-print) magazine called Haftalik, which summarised Tarkan's life and career up to that time. A scan of the relevant page that gives a summary of Tarkan's girlfriends in the booklet, imaginatively titled "Tarkan's Harem", is given below. You can click on each of the pictures for a larger view. I have loosely translated the summaries into English, and updated or added some extra information from other sources.
Tarkan's Harem
He was accused of being gay, but said, "This is my private life and concerns no one". Okay, so don't the females that he has called the "inspiration for his songs" concern any one either?
(With red hair in main pic) Real name Jülide, the one-time photography model is described as Tarkan's first lover in the booklet. Staying with Tarkan for a year and a half, the supplement goes on to state that she's remembered for telling the press that Tarkan was great in bed. They also sparked a craze of wearing the crescent and star among the young when he had given her a necklace with the national symbol as a gift. She now lives in America, and currently works as a hairdresser in Los Angeles. It's rumoured that Tarkan visits her for a hair cut when he's in the area.
Tarkan's second serious relationship was with journalist Elif Dağdeviren, who was editor for the Cosmpolitan magazine at the time. Their relationship continued between the years 1994-1996, after they met during the shoot for the Cosmo, when Tarkan became the first male on its front cover. Elif had been with him at the 1st anniversary party of private Turkish TV channel ATV, where he had made the "pee gaffe" live on air, and which media mogul Ahmet Ertegün had also attended. Allegedly, Tarkan was very much in love with Elif, and there was talk of them having a baby. He composed the song "Inci Tanem" for her (which he published in a 1997 album), about the long periods of separation they endured when Tarkan had moved to New York in 1995. The strain on the relationship was too much, however, and they separated a year later. Rumours of Tarkan's homosexuality are said to have gathered momentum soon after. Even though Tarkan wanted to resume the relationship, a reunion never materialised. It seems that they may have patched things up to an extent, as in November 2006 he went to the showing of a film Elif had produced to give his support.
Nevbahar Demirağ
A society rich chick and the cousin of model Yasemin Kozanoğlu (who had seemed interested in Tarkan one time herself), she met Tarkan at a socialite party in America. This rather uneventful relationship lasted a year and a half, as Nevbahar shied away from too much media attention. She has now married into the wealthy Koç family.
Fatma Yaman
Originally from Bulgaria, and third runner-up in a 2000 beauty contest, the booklet claims this model beauty made the headlines when photographs of her and Tarkan at dinner were leaked to the press.
This female lawyer is the one that most recent fans will recognize. She first started making the celebrity headlines in 2003, when photos of her old dance group "The Baby Lawyers" were published. Consisting of her sister and another friend, the group worked summer clubs in Antalya for 3 years between 1999-2001, while she was still studying law. It is rumoured when Tarkan and Bilge first met in a bar in Istanbul in 2001, she wasn't interested in him. However, she was with Tarkan for over half a decade, despite malicious rumours in the press that the relationship was faked and that she was little more than a paid escort to act as a cover for Tarkan's homosexuality. UPDATE: The couple amicably split in 2008.
The supplement ends with three other names. Two are just rumours: his old backing singer Ebru Aydın (who worked with him on the A-acayipsin album and now resides in Cyprus) and TV presenter/actress Çiğdem Tunç. The third is an Algerian model called Asia. Although the booklet for some reason says this relationship hasn't been confirmed, Asia herself made sure it was well documented in the Turkish press in 2001.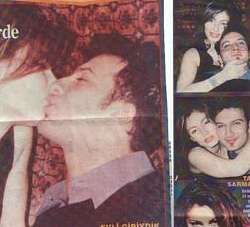 The French based model made the headlines when she came to Turkey to defend Tarkan during the "photograph scandal", in which private photos with him in "intimate poses" with other men had been stolen from Tarkan's New York apartment and leaked to the Turkish press. She responded by sharing her own photos with Tarkan. "We lived like man and wife for one and half years. Europe would just laugh at those photos," she declared on Turkish TV. They had met in a club in Paris, when Tarkan was popular in France with his hit song "Şımarık". They began to see each other again briefly in 2003, which nearly caused Tarkan and Bilge to end their relationship.
For more information about Tarkan's girlfriends on my Tarkan blogs, you can read the Tarkan documentary Making Moves and search through the photoblog Tarkan Visual for some more pictures of the more prominent women that have featured in Tarkan's life. Just type "girlfriends" in the Google search box provided at the main page of the photoblog for the list of relevant pages.
<< For more questions and answers about Tarkan see the Tarkan Q & A.
_____________
Claire from London, UK, writes:
Hey Ali!
I can't thank you enough for the English translations of Tarkan's songs, the articles and everything! I just want to tell you that I appreciate so much what you have given and taken nothing... the Tarkan songs translations are just great! They are the BEST I've ever found and thanks to you I can understand much better what he says.
I agree with what was on your blog that Tarkan needs to shake up his site, and I bet that people will have read your blog and taken notes!!
I was chatting with a friend about your blog the other day, and she said something that is so true. What if you had never been a Tarkan fan? Imagine if your blogs and all your hard work was not on the net? What would we have? Please don't end your blogs!!!
Thank you very much for your sentiments. However, there were fans who had built up a large body of work about Tarkan before I came on to the scene. It's largely due to their passion that I am doing this in the first place.
It's really quite the opposite Claire; the knowledge that I can stop the blog today, and know there are so many fans out there who can continue the task to translate all the necessary news and lyrics, and that really there is no need of me, is uplifting. It means the fan community has moved on; its moving forward. It has lightened the responsibility that I felt a little too heavy at times, and it pleasures me greatly to know I don't even need to translate any future Tarkan album. There are so many fans out there that can do the job just as well - or even better.
And believe me I've gotten plenty out of this. I've gained so much more than can ever be calculated in terms of money or credit. The people I've met, the lives I hope I've touched for the better, like the lives I know that have touched mine; this is my work's personal legacy. In between writing about Tarkan, I've been discovering who I am. It has been very fulfilling for me.
Yet, every journey has an end. The end of this journey is not tied up with Tarkan, or even when one day his official sources will be able to handle the demands of the fans by finally listening to them (which I've stated constantly I pray will happen). That just means our hard work is over. I can't wait for the day that Tarkan Deluxe will no longer be necessary for Tarkan fans; if official channels can negate the need for my Tarkan team's input, then that is a cause for celebration. It means we have improved, and fans will finally be getting the attention they deserve.
I've had it planned for a long time when the last post to Tarkan Deluxe will be written. When I know I've said all I need to say, I will stop and store this blog on to a reliable medium to keep safe for my child (that I hope to have) to read one day.
However, even though Tarkan Deluxe documents me as much as it does Tarkan and its focus has changed throughout the years, I do understand that over time it has become an archive about the singer that fans have come to rely on, so please don't worry. I may stop writing, but as long as Blogger is happy to host my work, I will keep my Tarkan blogs and the catalogue of information we have collected over the years about the star readily available on the Net for those who wish to use it.
Thank you for sharing, and thank you for reading.